It's hard to believe, but Yugure no Kagami is now seven years in development. As its co-creator, those seven years have been filled with more trials than I would've ever believed. And believe me, I'm aware how the extended wait appears to the casual observer. Though XGASOFT has remained active in creating and supporting game engine middleware for developers, the first-party titles they were created for have been lacking in updates (to put it generously).

But in spite of every trial, Yugure no Kagami lives on. Like the moon in a daylit sky, it's always been there, anxiously awaiting its chance in the spotlight. While that time has not yet come, it is my great pleasure to present you with a little taste of what's to come:

Introducing…
Introducing the Yugure no Kagami Original Soundtrack, composed and performed by Vincenzo Prestigiacomo and Charles Harrison, now available on streaming services everywhere!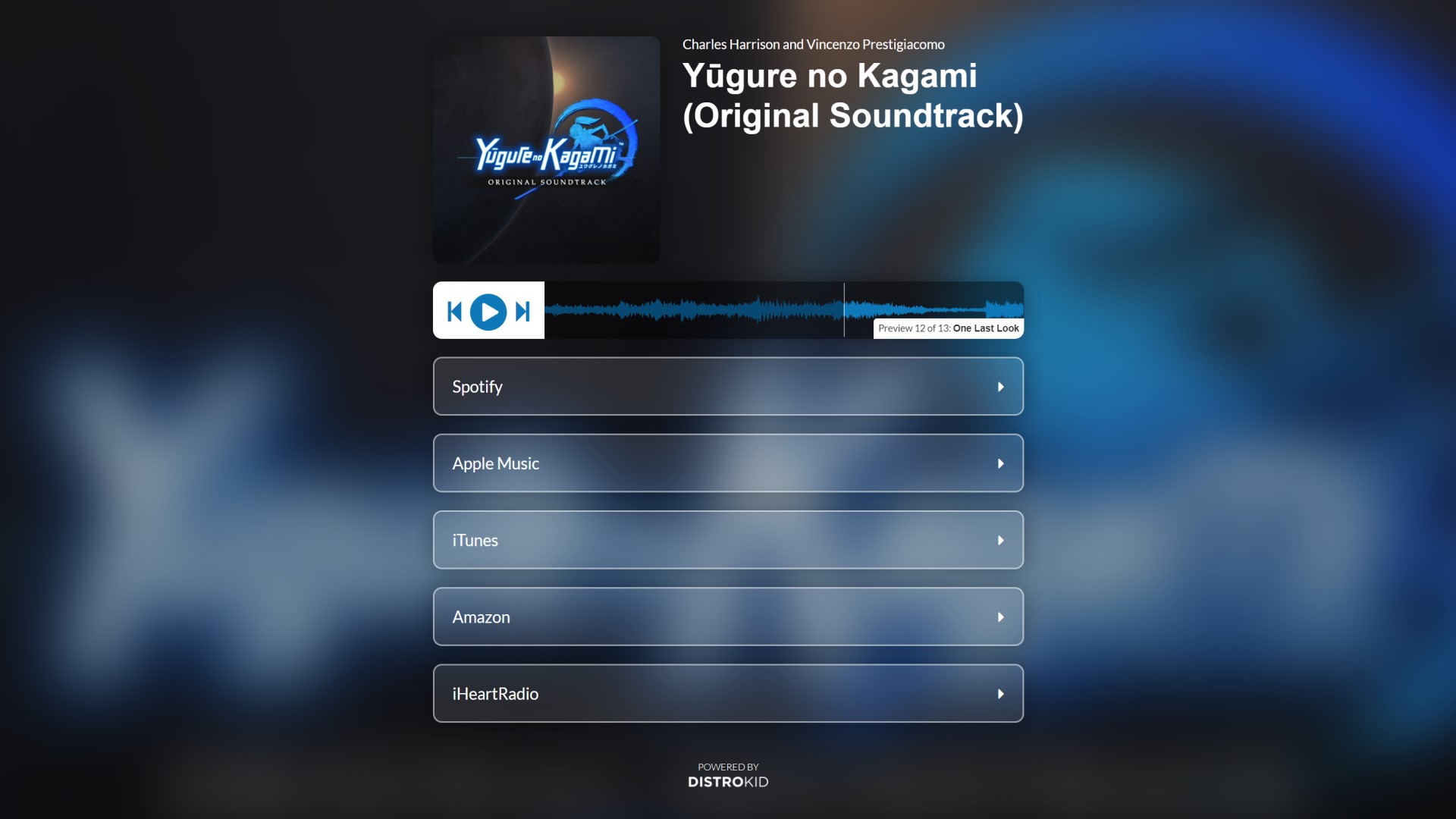 Preview the album on DistroKid!



Behind the Scenes
Working with Vin and Charles on these pieces was one of the most exciting parts of Yugure no Kagami's development thus far. The main theme song was a melody I had thought up years before and repurposed for Yugure no Kagami in a more melancholic style. But I'm no composer, and my own rendition was little more than a basic MIDI file. But in my mind, I knew exactly how it should sound. Somehow, when I gave that MIDI file and a few notes to Vincenzo, he managed to recreate that sound exactly. Of all the tracks in the album, the theme song changed the least from that point onward. It was sheer creative nirvana hearing that one come to life with such immediate perfection. I listened to it for hours.


Though more challenging, the other tracks were an equally interesting experience. Yugure no Kagami is inspired by Japanese media, which was a new genre for Vin and Charles, but its story is universal. The result is a fusion of both influences–something both new and familiar regardless of prior experience with anime and visual novels. It's bold, it's contemplative, it's energizing, and it's heart-gripping. Though they may be presented out of context now, I hope you can begin to feel the essence of Yugure no Kagami through the music, and one day gain a whole new appreciation as you experience them along with our cast of characters firsthand.

The Best Part?
This paticular release of the soundtrack is also unique for another reason: rather than compile the game versions verbatim, Vincenzo and Charles have gone the extra mile to remaster each track for your listening pleasure. The result is a richer, more cinematic sound than is suitable for videogame BGM, but which fits nicely alongside your personal music library. I'm confident you'll find each version of the album a fresh experience!

Thanks as always for being a part of XGASOFT's story! This is still just the beginning…

The Yugure no Kagami Original Soundtrack by Vincenzo Prestigiacomo and Charles Harrison is now available on Spotify, Apple Music, iTunes, Amazon, and iHeartRadio